TEAM OF INDUSTRIAL PROPERTY CONSULTANTS
The professionals
Within the firm there is a team of consultants registered with the Italian Institute of Industrial Property Consultants, Patent, Trademark and Design section, consultants qualified with the European Patent Office, consultants qualified with the EUIPO for European Union Trademarks and Community Designs, and a consultant qualified as a Patent Litigator with the Unified Patent Court. Several of the consultants working with us have also served as Technical Advisers to the Judge and Experts for the Court of Udine.
In addition, a well-established long-lasting cooperation with a network of correspondents around the world ensures the highest quality in the filing, protection and maintenance of Intellectual Property titles abroad.
To date, more than 1,800 clients have had the opportunity to use our services.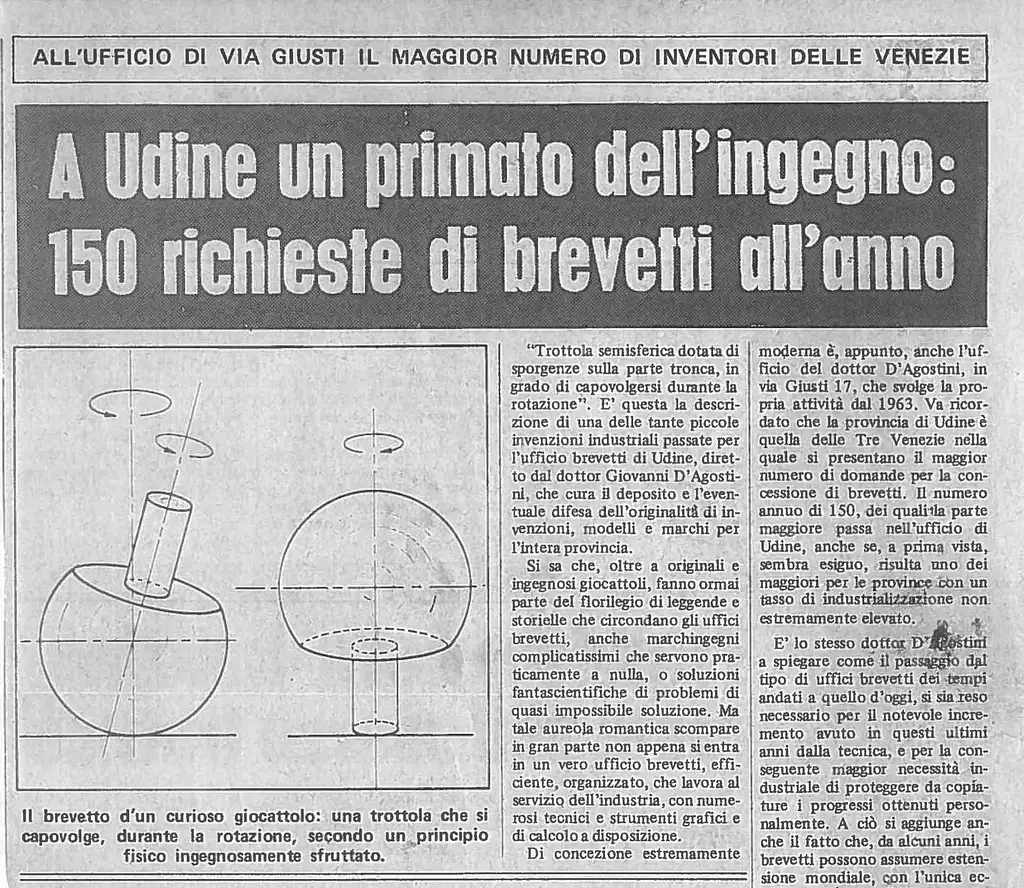 60 YEARS OF INNOVATION
The foundation
It was back in the 1950s that Giovanni D'Agostini came into contact with the world of innovation at Zanussi where new technologies related to the first household appliances were being developed when, together with his university commitment, he was awarded for a study on the standardization of materials.
After working on an invention related to the insulation of the first refrigerators, during a period as a teacher at various technical institutes, Giovanni D'Agostini came into contact again with the world of inventions when a student asked him, on behalf of his father, for assistance in the protection of an innovative invention: aware of the gap in the region and passionate about the idea of a work that enhances innovation, he founded D'AGOSTINI ORGANIZZAZIONE, now also present in Spain and Germany, which celebrates its 60th year of activity this year.
READ WHAT WE THINK!
Intellectual Property is our passion
TAKING PART IN INNOVATION
Machine translation in the 1980s
During the growth of D'AGOSTINI ORGANIZZAZIONE, Giovanni D'Agostini further offered his contribution to the state of the art. We are not referring to the patent he filed in 1984 relating to swimming gloves: the international ambition of the company forced to manage the translation of files relating to Intellectual Property titles in an increasingly efficient way, and the direct contact of its founder with the first computers available exclusively in the USA inspired Giovanni D'Agostini to create HYPETRANS, the first translation system in the world equipped with a self-learning system.
The system, which has become the subject of 8 patents for invention, is configured to work in synergy with the International Patent Classification (IPC) for which, together with the Locarno Classification (for registered designs) and the Nice Classification (for registered trademarks), D'Agostini Organizzazione has taken care of the translation into the 5 languages supported by the proprietary software that is still used today for the translation of patents for inventions, being equipped with almost forty years of specific sectorial language teachings, due also to the participation of numerous translation contracts.